Wye River Antiques



Updated 08-15-18
Welcome to Wye River Antiques. We are a shop
dealing in oyster tins, decoys, advertising and
hunting items. We also set up at several shows every
year. If you are planning on being in our area give us
a call. We are open by chance or appointment.
Please leave a message and we will get back to you.
Please be patient while the photo's load. Thanks.
You can reach us at 410-827-6726.
If no answer please leave a message
with your number and what item you
are interested in. We will get back to
you as soon as possible. Thanks.
If you see something you like please
e-mail me on availability, shipping
charges and payment instructions.
Thanks.
***************************************************
Calendar of Events
***************************************************
Shows in 2018
***************************************************
CHINCOTEAGUE LABOR DAY
WEEKEND DECOY SHOW
At The Chincoteague Center
6155 Community Dr.
Saturday 9 to 5 and Sunday 10 to 4
Decoy carving, fine art, jewelry,
photography, paintings. Over 25
great exhibitors showcase some
of the finest waterfowl carvings
and wildlife art from the area. Meet
the carvers and artists. Participate
in the many raffles to be held. Most
exhibits are for sale! Plus most of
the proceeds will be donated
back into the community to worthy
causes such as the Island Library,
the Scouts and the Scholarship
Fund, just to name a few!
Admission $3.00 (12 and
under are free) 2 day pass $5.00
Lunch will also available for purchase.
For more information, please call
410-546-1635 or visit
thechincoteaguecenter.com
***************************************************
21th Annual Chesapeake Wildfowl Expo Saturday, October 13, 2018 8:00 a.m. - 4:00 p.m. FREE ADMISSION Rain or Shine

The crisp, clear fall air and beautiful grounds of the museum will once again set the stage for a day of excitement, anticipation, and socialization among decoy collectors and carvers from across the country. Chesapeake Wildfowl Expo pays tribute to decoys from the past while encouraging the carving of new ones. Admission to the event and museum is free! Exciting Marketplace The front parking lot and John A. Luetkemeyer and Thomas F. Mullan, Jr. Legacy Center are transformed into a festive marketplaces. More than thirty vendors will participate in the buying, selling and trading of an eclectic mix of fine antique decoys, folk art and collectible waterfowling and hunting items. The vendors are always eager to see what new treasures will be brought to the buy, sell or trade. Visitors are encouraged to bring their decoys in for identification and/or appraisal. Competitions The competition pays tribute to old working decoys while encouraging the carving of new ones. Displayed the inside the Museum are the decoys entered by collectors into the "Old Birds" Antique Decoy Competition. Also held inside is the Contemporary Antique Competition which challenges carvers try to emulate the appearance of antique decoys. It is quite interesting to compare the two competitions. Activities The backyard is full of activities. Chesapeake Challenge participants compete for prizes in floating, shorebird, and woodpecker decoy divisions. There is a Youth competition in all three divisions and they are the first to be judged. Don't miss out on the carving demos! There are also children's activities at the Kid's Corner which include many make and take projects and educational nature activities.
***************************************************
55th Annual Chestertown Antiques Show
November 23, 24 and 25, 2018
Fri 4pm-7pm; Sat 10am-5pm; Sun 11am-3pm
Antique dealers, with a variety of specialties,
are in town to support Kent Association of
Riding Therapy, a non-profit dedicated to
providing therapeutic horseback riding to
those with special needs.
This Show offers
quality merchandise: sterling silver flatware,
primitives, oyster tins, decoys, antique & estate
fine jewelry, Americana, books, Native American
items, glass, silver, china, and more!
Show features: bake sale, on-site cafe and a $500 raffle.
Admission $8. Free parking.
Please email kentridingtherapy@gmail.com
***************************************************
***************************************************
We Accept Credit Cards Payments
Over the phone and Through Pay Pal
I will email you a Pay Pal invoice when you contact me.
We do not sell or ship outside of the U.S.A.
Some items for sale in our store.
Click on the pictures below to see a larger image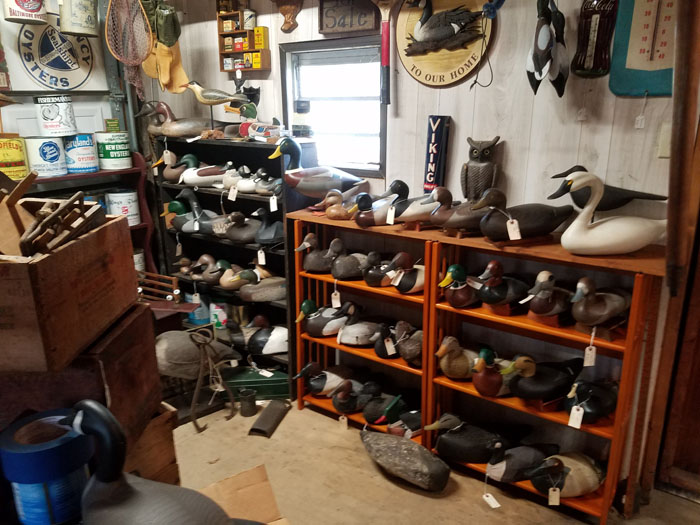 Picture 1

Picture 2 Picture 3

Picture 4 Picture 5

Picture 6 Picture 7

Picture 8 Picture 9
Site Design Copyright © 2001-2018
All rights reserved. No parts of this website may be used without my
permission in writing.