Wye River Antiques
|
Home



Duck Decoys Page 2

If you see something you like please e-mail me on availability,
shipping charges and payment instructions by
clicking on the logo above.
Thanks.
Updated 03-15-19
Mallard Duck Decoy by Wildfowler
From the Wildfowler Decoy Factory,
Old Saybrook, CT. It is in very
good condition. Looks to be all original
paint. It has normal wear associated
with hunting use. It is not stamped
with there brand on the bottom.
It is 15 3/4 in. long. Looks to be
made of cedar or pine.
$125.00
# D- 40
Black Duck Miniature Pair Decoys
from Havre de Grace, MD. I'm
not sure who the maker is.
They look to be from the
1950's or 60's. They are about
6 inches long. Great scratch painting.
They have heads that are turned
to the side. They are in very good,
original condition with minimal wear.
$ 245.00
D-041
Harold Haman Miniature Swan Decoy
This is a great looking mini
Swan decoy made by Harold
Haman from Middletown, DE.
It is 13 in. long and signed and
dated 1993 on the bottom.
Most of his decoys were cork.
It has a filler crack behind the head.
$ 215.00
# D- 042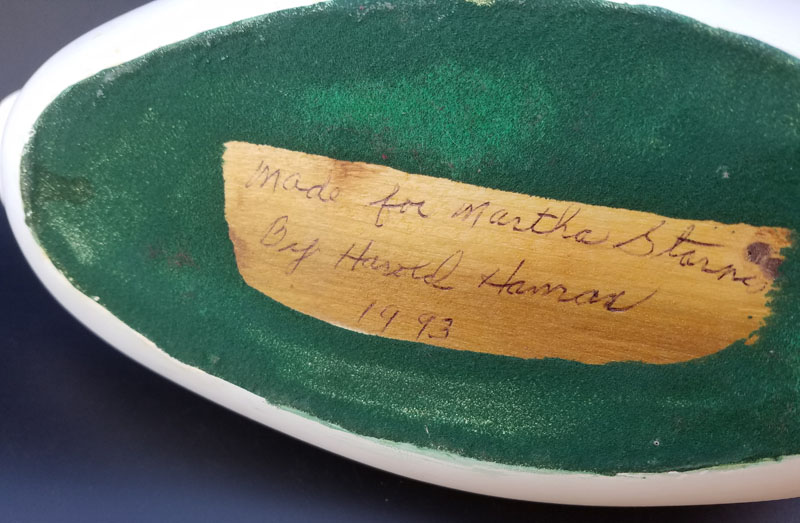 Miniature Zach Ward
Crisfield Duck Decoy
A mini hen that is just over 10 in.
long. It looks like a hen Pintail
or maybe a Teal to me. I am not
sure. The bottom of the decoy and
under the bill have not been
painted. It was made in
Crisfield by Billy ( Zach ) Ward.
$ 59.00
# D-043
Miniature Mallard Duck Decoy
Wooden Mini Mallard decoy.
It is 4 1/2 inches long.
It looks to be made in the
mid-west. The maker is
unknown to me. It is flat bottomed.
$ 65.00
# D-044
Black Duck Decoy by
Gene Hendrickson
J. Eugene Hendrickson
(1899 - 1971) Northfield, New Jersey
Gene Hendrickson is remembered as
one of Northfield's most notable watermen.
He created decoys and hunting boats
("sneak boxes") of exceptional quality. His
decoys were carved from local white cedar.
The bodies are hollow, tails are long ending
in a point. Heads have detailed carved bills.
He often branded his birds on the bottom
with the initials, "J.E.H." Hendrickson
carved from patterns shared with
Mark Kern (1888 - 1972) another
well known Northfield carver. He
provided ballast by pouring hot lead
into an inlet he cut into the
bottom of the decoy in the
manner of Harry V. Shourds (1871 - 1920),
a regional carver of note. Hendrickson's
later decoys are somewhat larger
than life-size. He is credited
with having carved some very fine
Canada geese, brant, canvas back,
broadbill, red head, merganser,
black duck, mallard and pintail decoys.
For additional information
Decoys of the Atlantic Flyway,
1974 by George R. Starr.
Decoys of the Mid-Atlantic Region,
1979 by Henry A. Fleckenstein.
New Jersey Decoys, 1983
by Henry A. Fleckenstein.
This information was shared
from the Ward Museum page.
SOLD
# D 045